On the 3 November 1970 Salvador Guillermo Allende Gossens became the 28th President of Chile, having led the coalition of the Popular Unity. an amalgamation of political parties of the left including the Socialist party, which Allende had been a founder of, the Communist party and many other left wing parties to an unprecedented election victory.
on 11th September 1973 the Army, Navy, Airforce and Police Force came together to enact a Military Coup and as the attacked La Moneda (the presidential palace in the capital, Santiago) , Salvador Guillermo Allende Gossens was killed; thus began a Military dictatorship, first led by the four heads of the armed forced and later by Augusto José Ramón Pinochet Ugarte.
Thousands of people were killed and hundreds of thousands went into exile. The dictatorship led by Augusto Pinochet stayed in place until 1989. On the 5th of October 1988 a national referendum to determine whether the de facto leader, Augusto Pinochet, should extend his rule for another eight years was held. The "NO" side won with 56% of the vote, bringing to an end the dictatorship.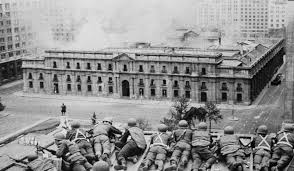 The bombardment of the presidential palace in Santiago on 11th September 1973 brought to an end the democratically elected Popular Unity government.
Salvador Allende's proposed programme of social reform was stopped and as other dictatorships took form in neighbouring countries such as Argentina. The iconic image of the bombing of the presidential palace shook to the core the left in Europe and across the world.
The three thousand plus Chileans that came to the UK settled and became part of the landscape, many returned home but the ones who settled were instrumental in forming the beginning of what has become the Latin American community across the UK.
Liverpool set up the first Chile Solidarity Campaign in Europe naming it "The Merseyside Chile Solidarity Campaign", the campaign was set up to help the incoming refugees and to highlight the human rights violations of the Pinochet regime. The Merseyside dockers took centre stage as they supported the Chilean exiles and formed a blockade, not allowing Chilean vessels to dock in Merseyside.